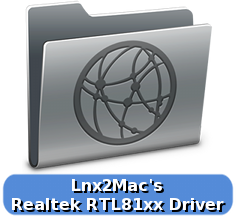 OSX Realtek 8111E/8168E support coming soon
Hi !
Due to the shortcomings of the current Realtek 81xx Hackintosh drivers (such as lack of or limited support of 8111E, 32/64-bit, sleep issues), I endeavored to port the Linux RTL81xx driver to OSX.
With the help of
MacMan
and
tonymacx86
, we alpha tested it on several platforms, P55, H55, X58, with RTL8111D and RTL8111E.
I feel it's almost ready for a restricted Beta test cycle !
Among the issues it fixes are:
RTL8111E Support
Full 32-bit and 64-bit support
Sleep/Wake issues
MacMan
and
tonymacx86
proposed creating a restricted area in the
tonymacx86 forum
for this beta test !
Thanks guys, you rock !
So, if you are willing to help testing, go to
this topic
in the tonymacx86 forum, post your current configuration (and any caveats on it), and I'll consider you for inclusion in this Beta cycle.
Thanks,
Lnx2Mac